Paper Birds (Flappy Bird)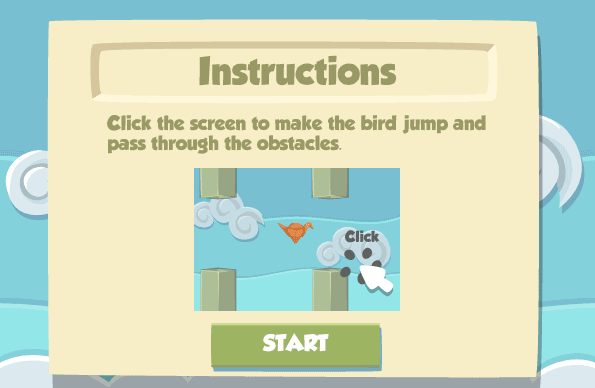 Getting Started: In order to play the title above you need to first find a data set of questions to load into the game. For a complete overview on how to do this, visit the "How to Play" tab located at the top of the page or click here. Use the search box to the right of the page to find a topic that you would like to study or test your knowledge on. Once you find a data set follow the links to your game. If your teacher gave you a game ID number you can enter it in the box to the right of this page and start playing. Should you require more help visit this link.


Overview and Directions: In this game you need to help a paper bird fly through the obstacles for as far as possible. The bird will fly to the right automatically, all you need to do is to control the altitude of the bird by clicking the screen. Each time you click, the bird will flap its wings and jump up, it will then fall down by the force of gravity, so you will need to click continuously. There will be obstacles so you need to time your clicks carefully to avoid hitting the obstacles. If you hit the obstacles, the game is over. In some obstacles, there will be multiple places where you can pass through the obstacle, you may get a bonus score when you pass the obstacle at the designated place. The more obstacles you pass through, the higher your score.