Space Invaders Arcade Game (Alien Intruders)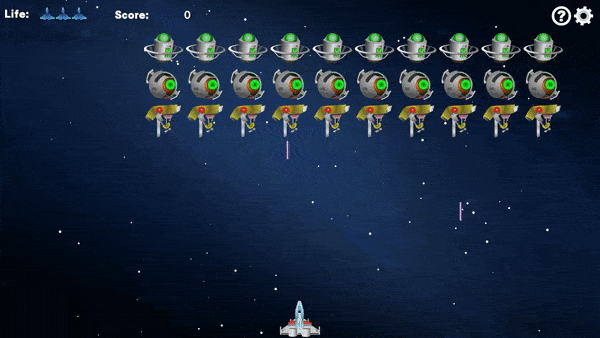 Getting Started: In order to play the title above you need to first find a data set of questions to load into the game. For a complete overview on how to do this, visit the "How to Play" tab located at the top of the page or click here. Use the search box to the right of the page to find a topic that you would like to study or test your knowledge on. Once you find a data set follow the links to your game. If your teacher gave you a game ID number you can enter it in the box to the right of this page and start playing. Should you require more help visit this link.


Overview and Directions: Hordes of alien intruders from the outer space have been sent to invade your beautiful planet. Your task is to bring the invasion to a halt by destroying all of the enemies. When the game starts, the enemy ships will align in 3 rows, and they will fire randomly while gradually moving downward. You can use the left and right arrow keys on your keyboard to control your spaceship at the bottom of the screen, then press Spacebar to shoot. When some of the enemies are destroyed, the aliens will move at a faster pace. Also beware of an alien probe which will appear at the top of the screen, as it will consume the last digit of your score; if this happens, you may retrieve your score by destroying the probe. You will start the game with 3 lives as displayed at the top left corner, but if your spaceship is hit, one life will be deducted. You lose the game if all lives are gone or when the aliens reach the bottom of the screen. Save the day and drive the enemies away!