Select Your Package then Enter Your E-mail
1 - Insert Images, Hints and Explanations ($5): Adds the ability to insert optional image(s) to game play and optional hint(s) & explanation(s) to each question
2 - Class Sections for Enhanced Tracking ($10): Adds the ability to create up to 5 class sections with unique "Teacher ID #'s" to better track your students from the "Track My Progress" game tab. Statistical results from "Track Students" within the teacher control panel are grouped by class sections instead of everyone grouped together.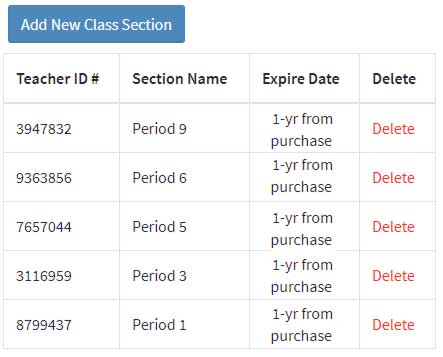 3 - Package Combo 1 & 2 ($15): Get everything from Package 1 and 2.
4 - Ad-Free Experience ($60): Get ad-free** access to the site. Advertising is removed from the site which results in less clutter and a more streamed experience. Provides entire single class of students*** (up to 30 at a time) access to the site****.
5 - All Upgrades - Package 3 & 4 Discounted ($70 - save 7%): Get every upgrade we offer (features of package 3 and 4 combined). No ads, create class sections, add images, hints and explanations, and the ability to search our database for keywords within questions and directly copy/insert into your test.
Purchase Options: for instant access to the above features we use PayPal, the safer and easier way to pay online!
We DO NOT auto bill (no reoccurring fees). The purchase is for a term of 1-year from date of sale. Upon expiration you lose access to paid feature(s). Package 1, 3 and 5 entered questions, images, hints and explanations remain and students can continue to access them after the term expiration but you cannot add/edit images, hints and explanations. You can purchase again at anytime to have any of those features re-enabled if you desire.
IMPORTANT: Upgrades are instant and you will receive an email with confirmation shortly after your purchase. Check your SPAM folder if you do not receive it within a few minutes. The charge will show up on your credit card statement as REVGAMEZONE or REVIEWGAMEZONE. Please note you can only have one active upgrade per year. If you want to upgrade your current package to a higher one complete the sale then reach out to customer service for a manual account update.

If you or your school does not have a PayPal account, email us and we can send you a direct credit card invoice. If your district wants to bulk order, we also accept purchase orders on 5 or more subscriptions. Discounts are available to bulk orders. Reach out to us with the number of accounts you wish to subscribe for a detailed quote.

*Every game on the site can utilize the optional image(s), hint(s), explanation(s) and "Track My Progress" features. "Preview Question Page", "Multiple Choice Test (non-game version)", "Fill it!" and "Flashcards" can display images only. Match it! does not support images, hints, explanations or "Track My Progress".
**ads only appear on Multiple Choice Test.
***cookies must be enabled for feature to work. Please consult with district IT before purchase to ensure compatibility.
**** you may not post or otherwise make your log in credentials available on any public/unsecured/non-passworded website.
Purchase is an agreement to our terms and privacy policy. All sales are final. If a transaction was completed in error, you must notify us within 24 hours. If we determine your request is valid you will be refunded purchase price less five percent (our payment processor does not refund transactions fees once a payment is processed). If the e-mail you entered at checkout does not match your account e-mail at ReviewGameZone you will need to contact customer service with your ReviewGameZone e-mail so the premium features can be activated.