Nothing But Net (Super Shooter Basketball)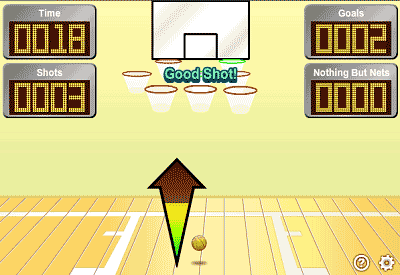 Getting Started: In order to play the title above you need to first find a data set of questions to load into the game. For a complete overview on how to do this, visit the "How to Play" tab located at the top of the page or click here. Use the search box to the right of the page to find a topic that you would like to study or test your knowledge on. Once you find a data set follow the links to your game. If your teacher gave you a game ID number you can enter it in the box to the right of this page and start playing. Should you require more help visit this link.


Overview and Directions: Take over the court and become a legend with incredible shots! Your goal in this game is to throw the ball into all of the baskets. You will be given 9 baskets in front of the backboard while 3 of them will be moving. An arrow-shaped power gauge will be located at the bottom of the screen, and you may change its position by moving your mouse. Click inside the power gauge and hold to set the power of your shot, then release the mouse to shoot the ball. If you can make nothing but net shots, i.e. the ball enters the basket directly without hitting anything, you can receive a higher score. Your current number of goals and nothing but net shots are shown on the right, while the time you have spent and the total number of shots are recorded on the left. Experience the thrill and dynamic passion of one of the world's most beloved sports!